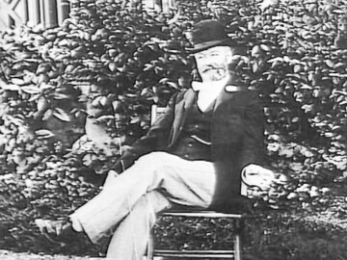 1820
The young Ernest Busnel settles with his family in Pont l'Evêque. He partners with Mme Quetel, who visits farms throughout the Pays d'Auge region to select the eaux-de-vie, colourless spirits made from fruit, for maturing and blending in their cellars. In this moment, we witness three births: birth of a love for the land, birth of a passion for apples and birth of a Calvados that will later be known as BUSNEL.
1902
Ernest's son, Georges Busnel marries Mme Quétel's niece, Lucie, and his name will later be given to the distillery and the brand. A perfectionist committed to excellence, George labours over the selection of his apples. As he says in 1902, "No good apples, no good Calvados". Day after day, he pays meticulous attention to his Calvados production and travels the Normandy countryside in search of new eaux-de-vie. It is said that in order to perfect these blends, Georges would go so far as to combine up to twelve eaux-de-vie of different ages.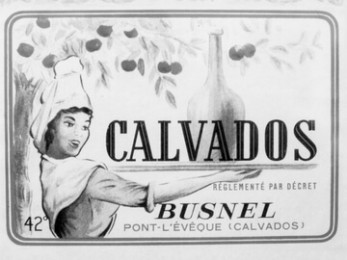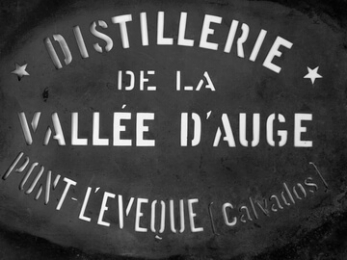 1906
1906 marks the birth of Georges' son Pierre. Perhaps it was the trips to the farms, or the delicious taste of apples that had captivated his father, for Pierre, too, finds himself enamoured with the Calvados tradition. From an early age, he shows himself to be passionate and gifted with a natural touch. Brought up in the distillery and made his father's business partner in 1927, Pierre in turn would go on to take over the family business, which becomes "Busnel Père et Fils". Over the years of the early 20th century, production increases significantly and Busnel anjoys a growing reputation. Busnel Calvados sees its distribution expanding throughout France, with Paris and Rouen contributing the most to sales.
1938
In 1938, the BUSNEL distillery in Pont l'Evêque achieves a new level of recognition, named the exclusive supplier to the RMS Queen Mary, the legendary transatlantic ocean liner, thanks to its "Grand cru Pré neuf" Calvados. Already a great national brand, the bottles of BUSNEL Calvados begin to cross the Atlantic for consumption on the American market.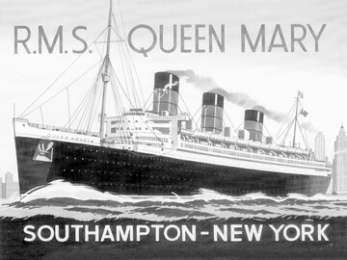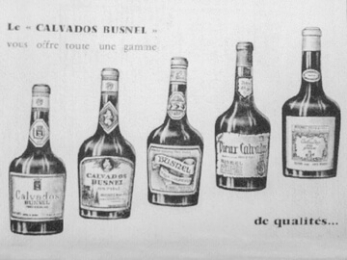 1952
During the Second World War and the bombings of 6 June 1944, the distillery fails to escape the wide-scale destruction: all its buildings and facilities are completely destroyed. They would then be rebuilt and the door to the new distillery opened in 1952.
1960
In 1960, BUSNEL once again reaches the level of success seen in the 30s when it becomes the official supplier of SS France.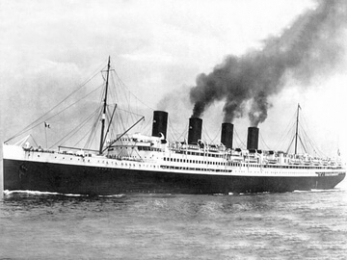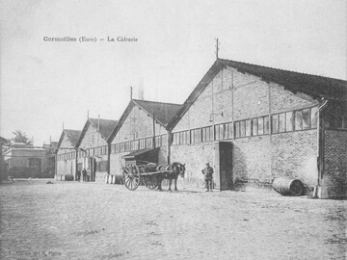 1970
At the end of the 70's, the BUSNEL Distillery expanded and relocated to Cormeilles, where it moved into the Grande Cidrerie, or cider factory, which since 1910 had marked the entrance to this typical village in Normandy.
BUSNEL, tradition and modernity
Today, the BUSNEL Distillery is the oldest of the major Calvados producers. For BUSNEL, time is an irreplaceable ally whose value is thoroughly appreciated. Over four generations, it has been the key to creating our Calvados of long-lineage.
The cellar master at the BUSNEL distillery continues to keep this knowledge, passed down alongside the brand's founding values: authenticity, know-how and quality.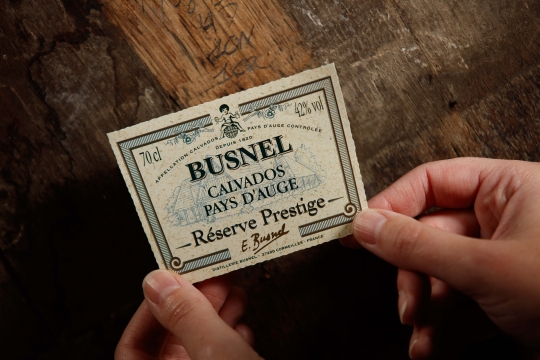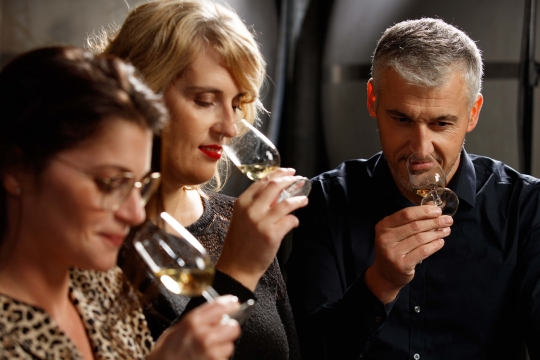 Proud of its values, BUSNEL has now entered the 21st century with a strong sense of tradition and modernity, tied to its terroir and committed to innovation.
Visit our online shop, where in addition to the Pommeau de Normandie and Calvados that made BUSNEL's name, you'll find Calvados Arrangés, Ready-to-drink Cocktails or calvados with special cask finishes.
What do all these products have in common? They are born from our passion for Calvados and serve the same purpose: to be enjoyed and appreciated by connoisseurs of high-quality products and refinement!
Want to visit our distillery ?
Whether you want to visit by yourself or with friends and family, we would be delighted to welcome you and offer you a guided tour of our Distillery. You will discover our manufacturing workshops and have an opportunity to taste our products. We look forward to seeing you!
Visit the distillery